Sonny Landreth is one of various top-notch guitarists I could have included in my recent slide guitar feature. This is what prompted me to check what Landreth who is also known as "the King of Slydeco" has been up to. Well, it turns out he released his 14th solo album Blacktop Run in February this year. While it's classified as blues, I'd call it a tasty rootsy gumbo that includes flavors of blues, swamp rock, zydeco and jazz rock.
Before I get to it, first a few words about the man. According to his artist profile on Apple Music, Landreth was born February 1, 1951, in Canton, Mississippi, and his family lived in Jackson, Mississippi, for a few years before settling in Lafayette, Louisiana. Landreth began playing guitar after a long tenure with the trumpet. His earliest inspiration came from Scotty Moore, the guitarist from Elvis Presley's band, but as time went on, he learned from the recordings of musicians and groups like Chet Atkins and the Ventures. As a teen, Landreth began playing with his friends in their parents' houses.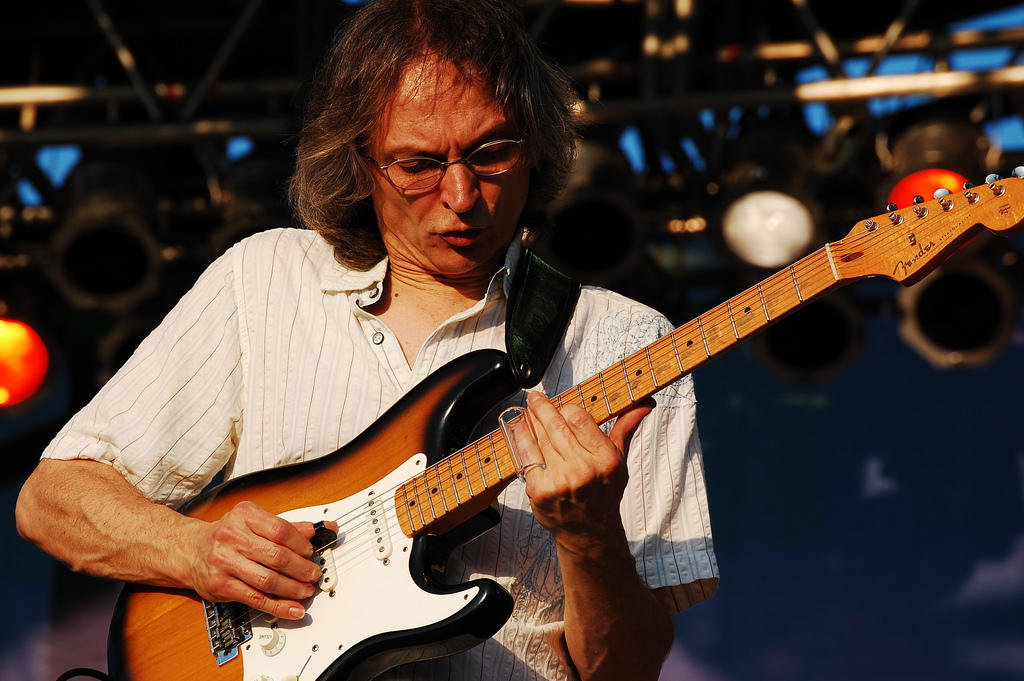 …After his first professional gig with accordionist Clifton Chenier in the '70s (where he was the only white guy in the Red Beans & Rice Revue for awhile), Landreth struck out on his own, but not before he recorded two albums for the Blues Unlimited label out of Crowley, Louisiana, Blues Attack in 1981 and Way Down in Louisiana in 1985…The second of those two albums got him noticed by some record executives in Nashville, which in turn led to his recording and touring work with John Hiatt.
That led to still more work with John Mayall, who recorded Landreth's radio-ready "Congo Square." More recently, he's worked with New Orleans bandleader and pianist Allen Toussaint (who guests on several tracks on South of I-10, as does Dire Straits guitarist Mark Knopfler). Eric Clapton has called Landreth one of the most advanced guitarists in the world, notes Wikipedia, and one of the most under-appreciated. Landreth's accolades include Instrumentalist of the Year (Americana Music Association, 2005) and a 2016 Blues Music Award in the Instrumentalist – Guitar category. Time for some music!
I'd like to kick it off with the opener and title track. It's among the eight of the ten tacks that were written by Landreth.
Mule is a catchy up-tempo rocker that makes you want to dance. It features great slide guitar and accordion work.
Groovy Goddess is one of four instrumentals on the album. And groovy it certainly is! Its improvisational nature gives it a jazzy feel. And there's more of Landreth's amazing slide guitar work.
Two tracks on the album were written by Steve Conn, who also played electric piano, organ and accordion. Somebody Gotta Make a Move is one of them. Landreth's website notes the newly arranged song features a guitar tuning Landreth developed but had not used in the studio.
The last tune I'd like to call out is Many Worlds, another instrumental.
Most of Blacktop Run's tracks were recorded live in-studio at the storied Dockside Studios on the Vermilion River south of Lafayette, La., where artists like Dr. John, B.B. King and Taj Mahal are among past clients. In addition to Conn, Landreth was backed by David Ranson (bass) and Brian Brignac (drums).
The album was co-produced by Landreth, R.S. Field and Tony Daigletto. Field previously co-produced three of Landreth's other albums. "His [Field's] brilliance and creative energy recharged us," Landreth stated. "We came up with new and better ideas, and that's what you want. It couldn't have gone better."
He added, "All told, the different elements of this project came together and I'm really happy about it. Blacktop Run is probably the most eclectic recording I've done. And sonically, I think this is the best album we've ever made." While I haven't explored any of Landreth's other albums, I know one thing: Blacktop Run is excellent and makes me want to hear more of his catalog.
Sources: Wikipedia; Apple Music; Sonny Landreth website; YouTube