I just love this clip of heartland rocker John Hiatt teaming up with Dobro resonator guitar master Jerry Douglas. Mississippi Phone Booth, written by Hiatt, is from Leftover Feelings, an upcoming collaboration album by the two artists scheduled for May 21.
As reported by Paste, while Hiatt and Douglas have known each other for years, the album marks the first time they have recorded music together. Initially, Leftover Feelings was supposed to come out in April of last year. But like in so many other cases, COVID-19 threw a monkey wrench into everything.
On the upside, Hiatt and Douglas ended up having four days at Nashville's historic RCA Studio B during the shutdown, which otherwise would have been used by the Country Music Hall of Fame and Museum for public tours. One can only imagine what it must have felt like to work in the same space where the likes of Elvis Presley, The Everly Brothers and Waylon Jennings once recorded.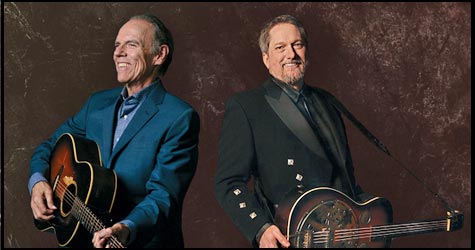 "The whole time you're there, when you're not playing, you're thinking about who has been in that room and played, Douglas told Paste. "All these great music producers and musicians walked in and out through that room, and it was their playhouse."
"The room's just got a feel to it," added Hiatt. "My mind started pedaling back to when I was a little boy hearing 'Blue Christmas' every Christmas and 'Love Me Tender,' and all of the great songs recorded there just kinda blew my mind."
As for Mississippi Phone Booth, Hiatt commented, "I maintain that I write fiction, but my stories are based on life experiences, or the experiences of people I know, or things I've read about and so on. And this one in particular chronicles my last sort of run with trying to make alcohol and drugs work successfully in my life, I'll just put it that way!"
"I have a mental picture of exactly where he was standing in that phone booth, calling and just begging somebody, at least for the operator to stay on the line long enough for him to talk to somebody," added Douglas. "It sounded like a miserable situation. But I try to bring…real life to what was there, to do what I could do to swamp it out a little bit."
Last but not least, here's how John Hiatt's website describes the upcoming album: Leftover Feelings is neither a bluegrass album nor a return to Hiatt's 1980s days with slide guitar greats Ry Cooder and Sonny Landreth, though Douglas's opening riff on "Long, Black Electric Cadillac" nods to Landreth's charged intro to "Tennessee Plates," Hiatt's epic tale of heisting Elvis Presley's Cadillac, a car that was surely purchased with proceeds from some of the 250-plus songs the King recorded at Studio B.
There's no drummer, yet these grooves are deep and true. And while the up-tempo songs are, as ever, filled with delightful internal rhyme and sly aggression, The Jerry Douglas Band's empathetic musicianship nudges Hiatt to performances that are startlingly vulnerable. Built when Hiatt was five years old, Studio B was designed for music to be made in real time by musicians listening to each other and reacting in the emotional moment. That's what happened here: Five players on the studio floor, making decisions on instinct rather than calculation.
Mississippi Phone Booth follows All the Lilacs in Ohio, another Hiatt song from Leftover Feelings, which was released upfront in early March. I certainly look forward to hearing the entire album.
Sources: Paste; John Hiatt website; YouTube