After weeks of publicity and anticipation, Peter Jackson's documentary The Beatles: Get Back finally premiered on Disney+ last week. As I started watching the first episode on Thursday, two things became clear to me. As a long-time fan of The Beatles, it was a foregone conclusion I would write about the film. I also decided not to do a review. If you're looking for the latter, I'd like to refer you to fellow Beatles fan and blogger Angie Moon who pens the excellent Diversity of Classic Rock blog and did a great job summarizing each of the three episodes here, here and here. Instead of a review, I'd like to share some of my takeaways.
Perhaps most importantly, I was glad to see The Beatles: Get Back is not an attempt to whitewash the band's late-stage history. Instead, I feel it's an effort to paint a more balanced picture of what was shown in the original 1970 documentary by director Michael Lindsay-Hogg. While the majority of Peter Jackson's film features "happy footage", it also captures the tensions between The Beatles. That's especially the case in the first episode where you can see George Harrison's growing frustration – even more so in his facial expressions than his actual words. There's also a candid conversation between John Lennon and Paul McCartney in the second episode. I'll come back to that shortly.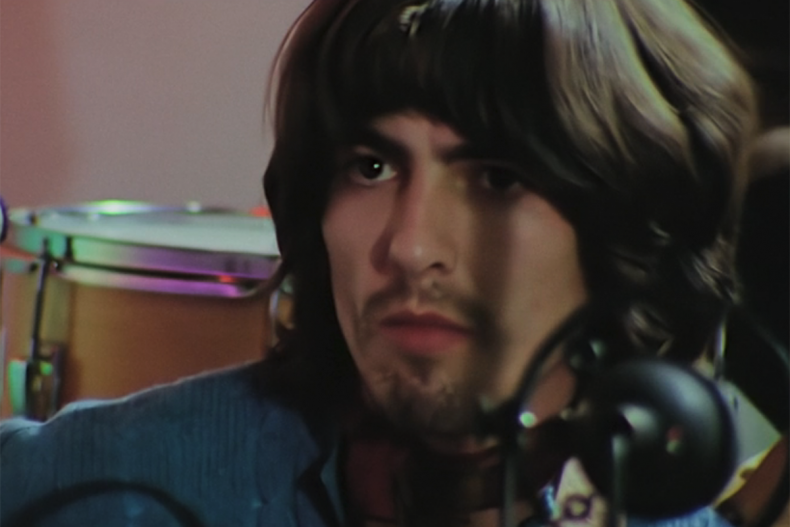 The task of having to complete 14 new songs for an album and a live TV show in just three weeks with no real plan looked pretty daunting, even for great writers and musicians like The Beatles – especially when you consider not all was easy-peasy between them. I also find it pretty remarkable how in spite of all the drama with George's walkout seven days into the rehearsals at Twickenham Film Studios and the uncertainty of his return, the entire project didn't completely get derailed then and there.
One of the documentary's most intense moments happens off-camera and is the above-noted conversation between John and Paul in a cafeteria, presumably at Twickenham. They had no idea the filmmakers had placed a microphone in a flowerpot on the table to secretly record them. That was really pushing the envelope, to say the least! Here's a transcribed excerpt:
John: 'Cause there was a period when none of us could actually say anything about your arrangements…
Paul: Yeah.
John: 'cause you would reject it all.
Paul: Yeah, sure.
John: I'd have to tell George and I would just say, you know, like you do about me…
Paul: Oh yeah.
John: …you know, I'm Paul McCartney, and a lot of the times you were right, and a lot of the times you were wrong. Same as we all are, but I can't see the answer to that. Because you…you've suddenly got it all, you see.
Paul: I really don't want you…
John: Well, alright. I'm just telling you what I think. I don't think The Beatles revolve around four people. It might be a fuckin' job.
Paul: You know, I tell you what. I tell you one thing. What I think…The main thing is this: You have always been boss. Now, I've been, sort of, secondary boss.
John: Not always.
Paul: No, listen. Listen. No. always!
John: Well, I…
Paul: Really, I mean it's gonna be much better if we can actually stick together and say, "Look, George, on 'I've Got a Feeling' I want you to do it exactly how I play it" and he'll say, "I'm not you, and I can't do it exactly like you do it."
John: But this, this year, what you've been doing and what everybody's been doing…I've not only felt guilty about the way we're all guilty about our relationship to each other 'cause we could do more. And look, I'm not putting any blame on you. I've suddenly realized this, because that was my game, you know, but me goals, they're still the same. Self-preservation, you know. I know what I like, I've let you do what you want and George too, you know.
Paul: Yeah I know.
John: If we want him, if we do want him, I can go along with that, because the policy has kept us together.
Paul: Well, I don't know, you know. See, I'm just assuming he's coming back.
John: Well, do you want…
Paul: If he isn't, then he isn't, then it's a new problem. And probably when we're all very old, we'll all agree with each other, and we'll all sing together.
Billy Preston's appearance at the Apple studio on Savile Row, to where The Beatles had relocated from that awful Twickenham location, was truly priceless. He wasn't called a "Fifth Beatle" for nothing – frankly, something I had not fully appreciated until I watched Jackson's documentary. You can feel the immediate positive vibes created by Preston's presence. Obviously, his keyboard work was great as well, especially on tunes like Get Back and Don't Let Me Down, using a Fender Rhodes electric piano.
I don't mean any disrespect to Yoko Ono. I realize how much she meant to John, but I just have to say I found her constant presence right next to him really odd. Of course, she wasn't the only guest. There was also Linda Eastman (soon-to-become Linda McCartney), but at least she appeared to have a purpose to be there taking pictures. Later on in the film, one can also see Ringo Starr's then-wife Maureen Cox and Paul's brother Peter Michael McCartney. By far my favorite guest is Linda's giggling daughter Heather who was about to turn seven years old and who subsequently became Paul's adopted daughter. I love how at some point she's hitting Ringo's snare drum when he didn't expect it, clearly scaring him!
The first and only time I saw the original Let It Be documentary was in Germany, which I believe was in the late '70s. Perhaps I should have watched it again before seeing the Jackson documentary. I didn't recall that until the morning of the rooftop concert, The Beatles still had not made their final decision whether they wanted to move forward with what would become their final public live performance. Lindsay-Hogg, George Martin and all other production staff seemed to take it in stride – that's just remarkable!
The Beatles: Get Back gave me a new appreciation of the Let It Be album. Don't get me wrong: I always considered it a decent record, but if asked for my top picks, I'd mention Sgt. Pepper's Lonely Hearts Club Band, Abbey Road and Revolver. Now I would add Let It Be to that group.
I think the Jackson documentary is mostly suitable for Beatles fans. Folks who are new to the band or who are casual listeners probably won't get as much out of it. While as a longtime fan and hobby musician I find it fascinating to watch John, Paul, George, Ringo and Billy in action, it's safe to assume the constant rehearsals and even their goofing around aren't everybody's cup of tea. Even as a Beatles fan, I have to say I'm glad this documentary is presented as a three-part docuseries, given its total running time of close to eight hours. In fact, I think they should have broken it up into four episodes of two hours each.
Sources: Wikipedia; Disney+; YouTube