"They [Atlantic Records] were about to drop us. We had to adopt a new sound. We had to adopt a new attitude." (Barry Gibb, The Bee Gees: How Can You Mend a Broken Heart)
At the beginning of 1975, the Bee Gees relocated to Miami. Interestingly, the man who encouraged the move thinking it would help them creatively was none other than Eric Clapton. Not only did Barry Gibb, Maurice Gibb and Robin Gibb follow his advice, the entire band lived in the very same house where Clapton had stayed while recording his second solo album 461 Ocean Boulevard.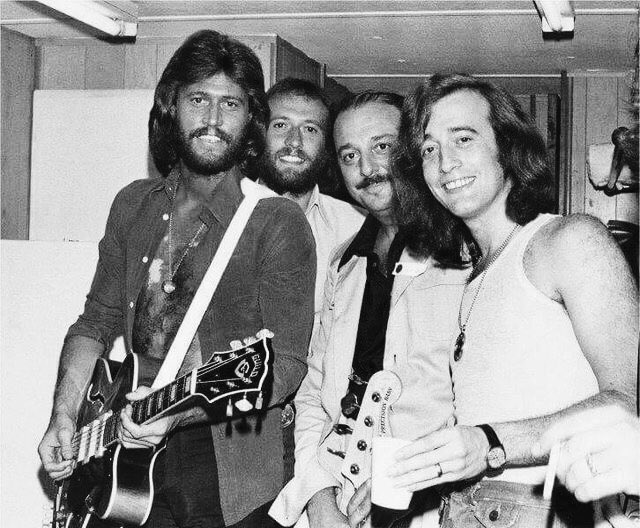 The Bee Gees worked with Atlantic producer Arif Marden, who had also produced their previous album Mr. Natural, and engineer Karl Richardson at Criteria Studios in Miami. Initially, the Gibb brothers started writing songs in their old, more ballad-oriented way. When their manager Robert Stigwood heard the tunes, he urged them to adopt more of an R&B style. With Marden, who had worked with Aretha Franklin and other R&B artists, they had the right producer.
The result was Main Course, the Bee Gees' 13th studio album released in June 1975. In addition to listening to contemporary R&B artists like Stevie Wonder, Marden had encouraged the use of synthesizers and dual bass lines to create a more technological sound. When they were working on Nights on Broadway, Marden also suggested to the band to add some background parts to the song like a screaming. This is when Barry came up with repeating lines of the tune sung in falsetto. The singing of the Bee Gees would be changed forever.
Nights on Broadway and Jive Talkin' catapulted the Bee Gees back to the top of the charts, especially in the U.S. where the tunes hit no. 1 and no. 7, respectively, and Canada (no. 1 and no. 2, respectively).
"The way they changed and the groove they got into there was so profound. If that was something that was initiated by me, I can't think of any… that's one of the great things I've done in my life. I'll take full credit!" (Eric Clapton, The Bee Gees: How Can You Mend a Broken Heart)
The group's next album Children of the World was characterized by Barry's falsetto and synthesizer sounds. And it brought more chart success. You Should be Dancing became another no. 1 single in the U.S. and Canada. Children of the World also did very well on both countries' albums charts, peaking at no. 8 and no. 3, respectively. By contrast, the reception was cool in the UK where the album failed to chart.
The Bee Gees were on the up. They went to even bigger heights with their next project: their involvement in the creation of the Saturday Night Fever soundtrack. The Gibb brothers wrote five new songs for it that all became hits: Stayin' Alive, How Deep Is Your Love, Night Fever, More Than a Woman and If I Can't Have You. The soundtrack also included their previously released tunes Jive Talkin' and You Should Be Dancing.
With 40 million copies sold worldwide, Saturday Night Fever is one of the best-selling albums in history and the second-best selling soundtrack of all time. The album is also credited with prolonging the mainstream appeal of disco. Notably, the Bee Gees never saw themselves as a disco band, even though critics, media and other artists called them "Kings of Disco." While there's no doubt Bee Gees tunes from that period included elements of disco and were very danceable, they also were strongly influenced by R&B. Here's the excellent Night Fever – love that smooth funky sound.
After Saturday Night Fever, the Bee Gees were on top of the world. So perhaps it's not a surprise their next studio album Spirits Having Flown became another major success producing more no. 1 singles. Here's one of them ironically titled what was ahead when disco not only lost its luster but led to outright hostility: Tragedy.
Sources: Wikipedia; The Bee Gees: How Can You Mend a Broken Heart – documentary directed by Frank Marshall; YouTube