Writing an informed review of a new album by a music artist like Elvis Costello who has had an impressive 45-year recording career is a bit tricky when you've only listened to a fraction of their previous catalog. But having been a music fan for essentially the same amount of years, I feel confident to proclaim I know great music when I hear it, and The Boy Named If definitely qualifies!
If you're a long-time Costello listener, which I cannot claim, you may ask which Elvis Costello is showing up on the new album. After all, the British singer-songwriter hasn't been called a chameleon for nothing, having worked with the likes of Richard Harvey, Burt Bacharach, Anne Sofie von Otter and The Roots. Based on my limited exposure, I can clearly hear early influences going back to his first few albums, especially This Year's Model, his sophomore release from March 1978, and the first record with the then-newly formed The Attractions.
The Boy Named If, released Friday, January 14, is Costello's 32nd studio album. He is backed by The Imposters, the official name of his touring band since 2002, which has had different members. According to this review in Showbiz 411, the current line-up includes Steve Nieve (keyboards), Davy Faragher (bass and vocals) and Pete Thomas (drums, percussion). Ultimate Classic Rock called this group "essentially the classic Attractions lineup minus bassist Bruce Thomas, replaced by Davey Faragher.
"The full title of this record is 'The Boy Named If (And Other Children's Stories)," Costello noted in a statement on his website. 'IF,' is a nickname for your imaginary friend; your secret self, the one who knows everything you deny, the one you blame for the shattered crockery and the hearts you break, even your own. You can hear more about this 'Boy' in a song of the same name."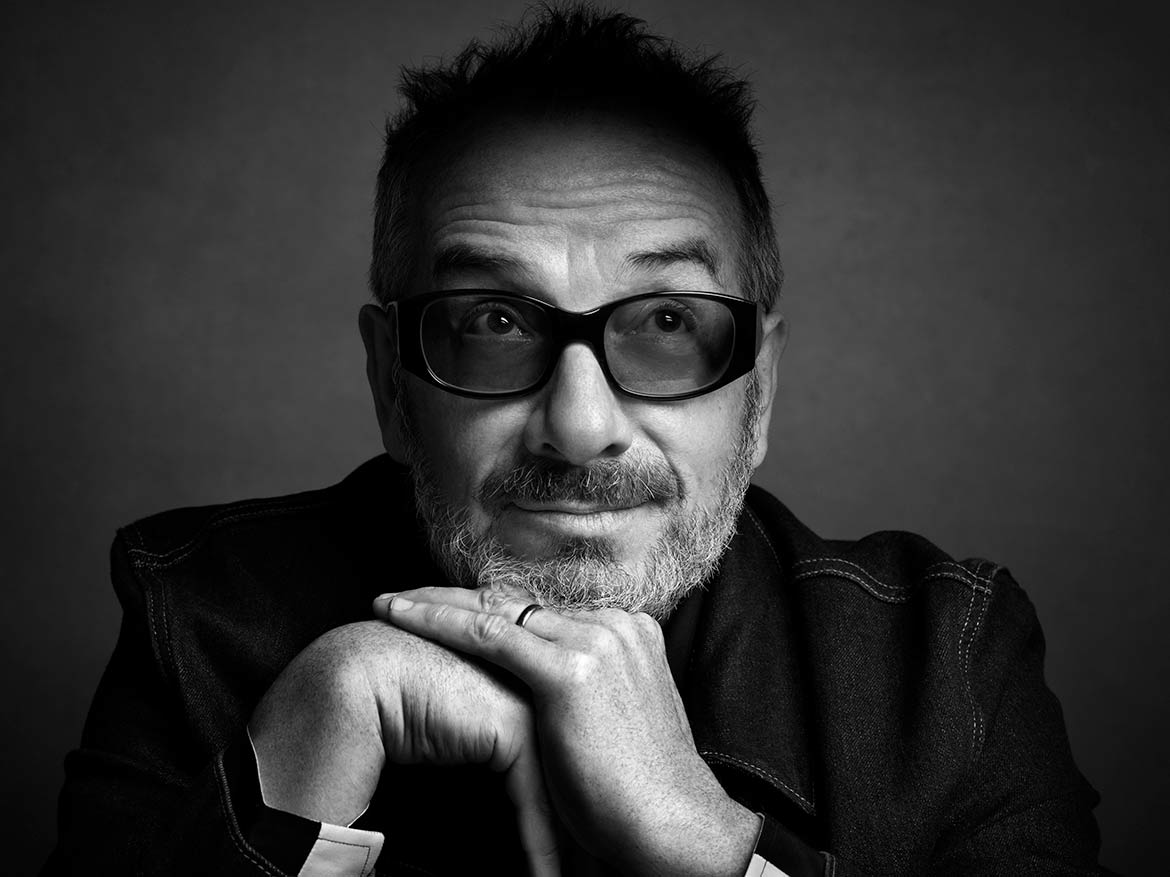 Well, I'd say 'nuff upfront info, let's check out some music. For some odd reason, I couldn't embed YouTube clips for some of the songs. In these cases, I resorted to embeds of Spotify sound files. I'm also including a Spotify link to the entire album toward the end of the post.
I'd like to kick it off with an early favorite, the opener Farewell, OK, which also had appeared separately as one of three singles leading up to the album's release. "Like a lot of good rock and roll songs this began with a drummer down in a basement and a singer howling outside the backdoor," Costello stated on his website. "It's a blurred gaze, a drink too much, an accidental punch and a kiss goodnight all in the tumult of a dancehall." Like all other tunes on the album, it was penned by Costello. I love Farewell, OK's cool retro feel, including Nieve's Vox Continental and the harmony vocal fill-ins.
Here's the title track Costello mentioned in his above comment, together with the opening verse to give you a flavor of the lyrics.
I'm a lucky so and so
A fortunate stiff
You said you'd never knew me but I'm the one you want to be with
If I tumble from a tightrope or leap from a cliff
I won't be dashed to pieces
I'm the boy named If…
Penelope Halfpenny is another early favorite. Like in the opener, Steve Nieve is back with that seductive Vox Continental keyboard. I just can't get enough of this cool sound – okay, perhaps once again my nerdy side is rearing its head. But even if you don't care about the Vox Continental or any other instrument for that matter, you've got to admit this is a bloody catchy tune. Check it out!
Costello and the band are slowing things down on Paint The Red Rose Blue. But don't get fooled by the ballad's beautiful melody. This ain't exactly a silly love song. Paint The Red Rose Blue, which first appeared as another upfront single, is "the account of someone who has long-courted theatrical darkness, only for its violence and cruelty to become all too real," as Costello put it. "In its wake, a bereft couple learn to love again, painting a melancholy blue over the red of romance."
My Most Beautiful Mistake (reading that title, I keep thinking of Sheryl Crow's My Favorite Mistake) is another track I'd like to call out. The song features American singer-songwriter Nicole Atkins on backing harmony vocals. I like how her voice bends with Costello's.
Since I already featured Magnificent Hurt, another highlight on the album, in my last Best of What's New installment, I'm skipping it here and go right to the final track I'd like to highlight: the beautiful closer Mr. Crescent.
"Whatever you take out of these tales, I wrote them for you and to make the life of these songs a little less lonely, if you should care to dive in a little deeper," Costello said in the above statement. "I started 'The Boy Named If' with just an electric guitar, some sharps and flats, high heels and lowdowns, with five songs in bright major keys and carried on to write a whole new record for The Imposters to play."
He added, "The initial rhythm section for this record was my guitar and Pete Thomas' Gretsch drums, recorded down in Bonaparte Rooms West. Our Imposter pal of 20 years standing, Davey Faragher soon dialed in his Fender bass and vocals while we awaited dispatches from France. If the record sounded swell as a trio, Steve Nieve's organ was the icing on the cake, the cherry and the little silver balls."
The Boy Named If was co-produced by Costello and Sebastian Krys, who also had worked with Costello on his two previous studio albums Hey Clockface (October 2020), Look Now (October 2018). Appearing on EMI, with Capitol Records serving as U.S. release partner, the new album is available in vinyl, CD, cassette and downloadble/streaming formats. There is also a deluxe version that includes an 88-page hardback storybook.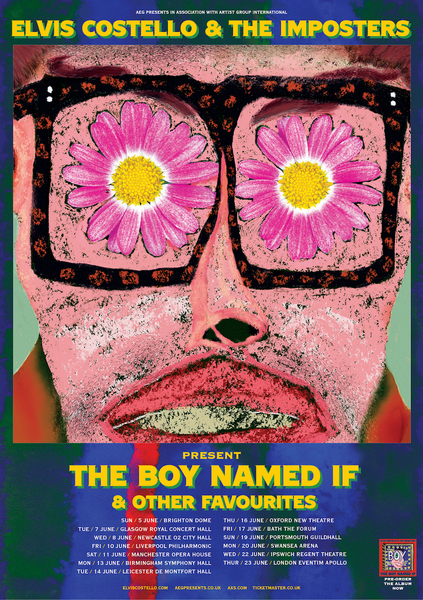 In early December, Costello announced plans for a 2022 UK tour featuring The Imposters, along with American guitarist and singer-songwriter Charlie Sexton. Among others, he is known for having been a member of Bob Dylan's backing band starting in 1999. The tour is set to kick off on June 5 in Brighton – keeping my fingers crossed for British fans! For additional details, you can check here.
Sources: Wikipedia; Showbiz 411; Ultimate Classic Rock; Elvis Costello website; YouTube; Spotify