Earlier today, I found myself listening to Beatles For Sale. The Beatles were still learning about musical arrangements and how to use the studio to their full advantage when they recorded this album in 1964. While as such it's less sophisticated than their later records after they stopped touring, Beatles For Sale once again reminded me how great The Beatles were at playing classic rock & roll.
I recall reading somewhere that John Lennon during an interview after The Beatles had disbanded said the rock & roll they played during their early years at clubs in England and Hamburg, Germany prior to Beatlemania was their best music. Of course, Lennon had a tendency to be pretty dismissive about the band, especially during the early years after their breakup.
While The Beatles wrote some of the best original recorded pop music of all time, there's no doubt in my mind they also knew how to rock and roll. As such, I thought it would be fun to put together a playlist of classic style rock & roll tunes performed by The Fab Four, including covers and some originals.
I Saw Her Standing There (Lennon/McCartney – Please Please Me, 1963)
Twist and Shout (Phil Medley & Burt Russell – Please Please Me, 1963)
Roll Over Beethoven (Chuck Berry – With the Beatles, 1963)
You Can't Do That (Lennon/McCartney, A Hard Day's Night)
Rock and Roll Music (Chuck Berry – Beatles For Sale, 1964)
Kansas City/Hey-Hey-Hey-Hey (Jerry Leiber & Mike Stoller/Little Richard)
Dizzy Miss Lizzy (Larry Williams – Help!, 1965)
One After 909 (Lennon/McCartney – Let It Be, 1970)
Boys (Luther Dixon & Wes Farrell – Live at the Hollywood Bowl/Eight Days a Week – The Touring Years, 2016)
Long Tall Sally (Enotris Johnson, Little Richard & Robert Blackwell – Live at the Hollywood Bowl/Eight Days a Week – The Touring Years, 2016)
And there you have it, boys and girls!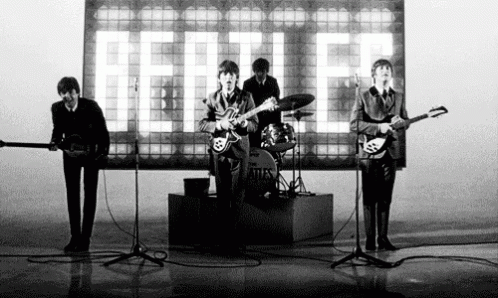 Sources: Wikipedia; YouTube