"Bland", "saccharine" and "clean-cut." These are a few attributes music critics used to describe Carpenters back in their heyday. Or how about this commentary by Rolling Stone writer Lester Bangs who felt Richard Carpenter and his sister Karen Carpenter had "the most disconcerting collective stage presence of any band I have seen." He added promotional photos made them resemble "the cheery innocence of some years-past dream of California youth." Even if some of the above wasn't entirely inaccurate, I have no problem admitting I've always liked the music by Carpenters.
Before highlighting some of their songs and presenting additional tunes in a playlist at the end of this post, I'd like to provide a bit of background. Richard Carpenter (October 15, 1946) and Karen Carpenter (March 2, 1950) were born in New Haven, Conn. According to a bio on Carpenters' official website, the siblings' father Harold Bertram Carpenter "hated the frigid New England winters. So, in June of 1963, the family moved to a suburb of L.A., Downey, California."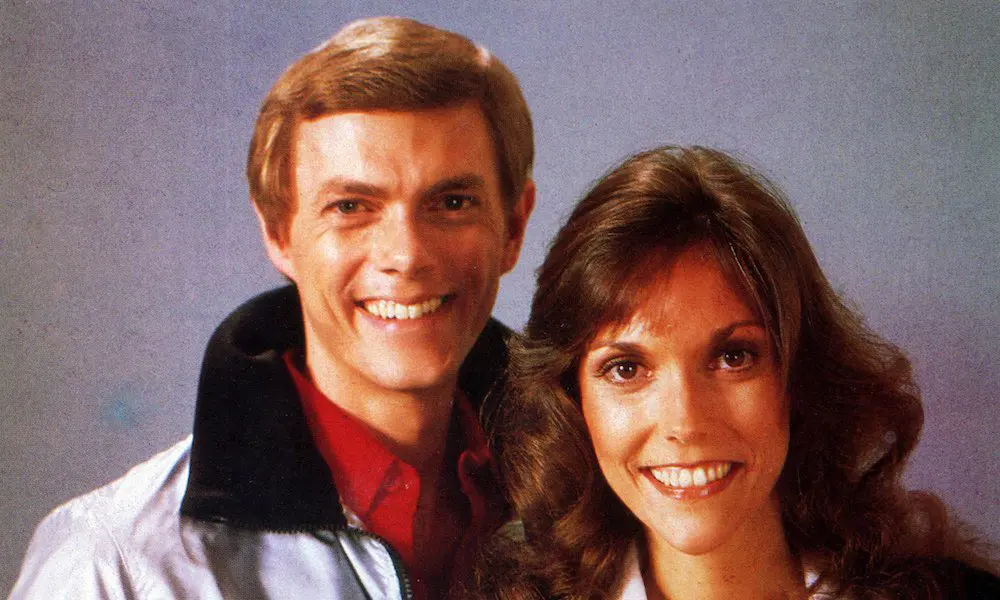 Early in their childhood, Richard and Karen started sharing a common interest in music. Richard picked up the piano at age 8. By the time he was 14, he had decided he wanted to become a professional musician and started taking lessons at Yale School of Music. Karen initially got into playing the glockenspiel, but after enrolling at Downey high school, she discovered her enthusiasm for the drums.
In 1965, the siblings started performing together in the jazz-focused Richard Carpenter Trio. In addition to Richard (piano) and Karen (drums), the group included Wes Jacobs (tuba, standup bass), a friend of Richard's who he had met the previous year at California State College at Long Beach. After The Richard Carpenter Trio had disbanded in 1967, the siblings went on to form a band called Spectrum. But their music didn't conform to rock and roll standards at the time, so they dissolved in 1968. Richard and Karen decided to soldier on as a duo and became Carpenters.
In April 1969, Carpenters signed with A&M Records after label owner Herb Alpert had heard and was intrigued by Karen's voice. Their debut album Offering appeared in October 1969. While it didn't sell well, a rendition of The Beatles' Ticket to Ride, which had been arranged by Richard, gave Carpenters their first charting U.S. single on the Billboard Hot 100, where it climbed to no. 54. Their fortune changed drastically with their next single, (They Long to Be) Close to You, a tune written by Burt Bacharach and Hal David. It became the first of three songs to top the U.S. mainstream chart and the first of 15 no. 1 singles on the Adult Contemporary (then called Easy Listening) chart.
During their 12-year recording career, Carpenters released nine studio albums, one Christmas album, two live albums, two compilations and approximately 30 singles. This doesn't include the numerous posthumous releases following the untimely and tragic death of Karen at age 32 from heart failure caused by complications from anorexia nervosa. Let's get to some music!
My first pick is the aforementioned rendition of Ticket to Ride. Rearranged by Richard Carpenter as a ballad, the tune is from Carpenters' debut album Offering, which following their breakthrough was reissued internationally under the title Ticket to Ride.
In August 1970, Carpenters issued their sophomore album Close to You. Their breakthrough record surged to no. 2 in the U.S. on the Billboard 200 and topped the charts in Canada. It also did well elsewhere, reaching no. 16, no. 23 and no. 53 in Australia, the UK and Japan, respectively. In no small part, this was due to the above noted hit single (They Long to Be) Close to You.
The hits kept coming on Carpenters' eponymous third studio album from May 1971. Here's one of my favorites: Rainy Days and Mondays. The tune was co-written in 1971 by Roger Nichols and Paul Williams. Rainy Days and Mondays was one of the record's three singles that all topped the Adult Contemporary chart. It also reached no. 2 on the Billboard Hot 100.
Top of the World is one of the tunes co-written by Richard Carpenter and John Bettis, who Richard had first met in 1964 in college and who had been a member of Spectrum. Interestingly, Richard who it seems to me had a great sense of songs with hit potential initially didn't see that for Top of the World. It was only released as a single in September 1973, more than one year after the album A Song for You had come out. The country-flavored tune became one of the Carpenters' most successful songs, topping the mainstream charts in the U.S., Canada and Australia, and charting in the top 40 in many other countries.
If I recall it correctly, Only Yesterday was the first Carpenters song I ever heard. It was included on some pop sampler my sister had on vinyl. Another composition by Richard Carpenter and John Bettis, Only Yesterday first appeared as a single in March 1975. It also was included on Horizon, the sixth studio album by Carpenters from June 1975.
This brings me to the final song I like to highlight: Calling Occupants of Interplanetary Craft. This great ballad had first appeared on 3:47 EST, the debut album by Klaatu from August 1976. The Canadian outfit became famous after a 1977 feature story in Providence Journal started speculations Klaatu could be The Beatles or include members of the band. I did a post on the magical mystery in May 2017, which you can read here. This was a quite unusual tune for Carpenters to record, but I think they did a nice job. Their rendition was first released in September 1977 as the second single from their eighth studio album Passage that appeared two weeks thereafter.
Following is a playlist with many additional tunes by Carpenters:
Carpenters have sold more than an estimated 100 million records worldwide as of 2005, making them one of the top-selling music artists of all time. In the U.S. alone, their total sales are believed to be close to 35 million. In the UK, they are ranked as the seventh top-selling albums artist on the official record chart of the 1970s. And in Japan, the pop duo has been the third best-selling international music act behind Mariah Carey and The Beatles.
I think it's fair to say views of Carpenters' initial critics have evolved, which isn't unusual. In this context, Wikipedia notes a series of documentaries in the late '90s and early 2000s, maintaining they have led to a critical re-evaluation of the pop duo. In December 2015, Rolling Stone ranked Carpenters no. 10 on its list of 20 Greatest Duos of All Time.
During an NPR segment from February 2013 in connection with the 30th anniversary of Karen Carpenter's death, Paul McCartney called her "the best female voice in the world: melodic, tuneful and distinctive." That's certainly a bold statement, though I do agree Karen had a beautiful and distinct voice. We've Only Just Begun and (They Long to Be) Close to You have received Grammy Hall of Fame awards for recordings of lasting quality or historical significance.
Sources: Wikipedia; Carpenters official website; NPR; YouTube