My recent post about images and music from Germany, the country in which I was born and grew up, was so well received that I decided to do an encore. Instead of covering various places, this time, I'd like to focus on one specific city I briefly mentioned in that post: Cologne, or Köln in German. Or Kölle, as it's known in the local dialect of Kölsch.
While Cologne isn't my place of birth (Heidelberg is) and I grew up about 25 miles to the south in the countryside close to Bonn, I've come to love this old city. And I always enjoy going back there during visits to Germany.
Cologne is big, at least for German proportions. With approximately 1.1 million people, it's the country's fourth largest city after the capital Berlin (3.8 million), Hamburg (1.9 million) and Munich (1.1 million). Cologne is also the most populous city on the river Rhine and in the so-called Rhineland region. Moreover, with more than 30 museums and hundreds of galleries, it's a major cultural center in the region.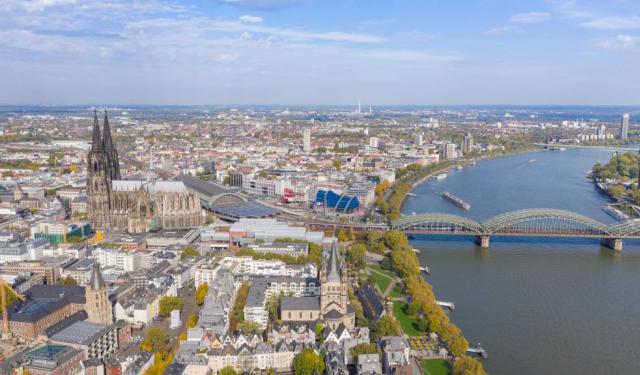 There's lots of history and old architecture in Cologne. The city was founded by the Romans in 50 AD as Colonia Claudia Ara Agrippinensium. The first urban settlement on the grounds of present day Cologne dates back even further, to 38 BC and a Germanic tribe known as the Ubii. During the Middle Ages, Cologne flourished due to its geographic location on major trade routes. But the city has also experienced its share of hard times. During World War II, it suffered major destruction when much of its millennia-old center was reduced to rubble.
Cologne has many landmarks that have been restored or are in a near-constant state of restoration. Undoubtedly, the most famous is the Cologne Cathedral (Kölner Dom), a majestic Gothic church built in various stages between 1248 and 1880 (see in photo above and feature collage imagine on top of the post). While badly damaged by aerial bombs during World War II, remarkably, the cathedral remained standing in an otherwise completely flattened city. There are also a dozen Romanesque churches in the old town of Cologne, as well as medieval houses and city gates (see photo collage below).
When it comes to Cologne, it's also important not to forget about Kölsch beer. To be clear, Kölsch refers to a style of beer, not a specific brand. Per Wikipedia, Kölsch is one of the most strictly defined beer styles in Germany: according to the Konvention, it is a pale, highly attenuated, hoppy, bright (i.e. filtered and not cloudy) top-fermenting beer, and must be brewed according to the Reinheitsgebot. Of course! 🙂
There are approximately 25 different brands of Kölsch. The most popular are Reissdorf, Gaffel and my favorite Früh Kölsch. Various of the local breweries have restaurants where Kölsch beer is served super fresh – you simply can't beat that taste! Typically, these restaurants offer delicious dishes from the region as well – to die for! As I'm writing this, I'm getting hungry and thirsty – dang it! 🙂
Obviously, it's impossible to capture Cologne's richness in a few paragraphs. If you'd like to know more about this remarkable city, I'd highly recommend a visit.
Since this blog is focused on music, let's devote the final portion of this post to local artists. More specifically, I'd like to feature a handful of bands from Cologne with songs that are related to the city.
BAP/Stadt im Niemandsland
Of course, the first band that comes to my mind in the context of Cologne is BAP, a group around singer-songwriter Wolfgang Niedecken, which has been around since 1976. Nowadays known as Niedeckens BAP, it's essentially a project of Niedecken. As my favorite German-singing (or I guess I should say Kölsch-singing) rock band, I've covered them on various previous occasions, for example here. One of the group's songs about Cologne is titled Stadt im Niemandsland (city in no man's land), a catchy tune with nice harmony guitar action from their 1988 studio album Da Capo.
Bläck Fööss/Dat Wasser vun Kölle
Bläck Fööss are a true Cologne institution. Founded in 1970, the band is best known for music in connection with the Cologne Carnival. The local festive period stretches from November 11 all the way to Ash Wednesday in February, with a temporary suspension between the Advent and Christmas period. The highlight is the last week when festivities culminate in a street carnival with parades and people going out masqueraded. Apart from carnival music, Bläck Fööss also became known for other, oftentimes humorous songs. That was especially the case when their front man was Tommy Engel who deliberately took the group beyond carnival music. One great example is Dat Wasser vun Kölle (the water from Cologne), a track from a 1983 studio album titled Immer Wigger (always pushing forward). Based on what I believe was an advertising slogan for the local water utility, the tune pokes fun at Cologne's tap water. Here's a short translated excerpt: Oh dear God, please give us water/Because all of Cologne is thirsty/Oh dear God, please give us water/And help us through our misery… Performed in the style of a gospel song, the tune also illustrates Bläck Fööss' impressive vocal talents.
Brings/Kölle
Brings are a rock-turned-carnival/party song band, which was formed in 1990. During the first 10 years, they focused on rock music. Following the commercial success of a polka type song titled Superjeilezick, Brings completely changed their style to focus on carnival and other Kölsch party music – and completely lost me in the process. Here's a great tune from their rock period titled Kölle. It was included on their 1991 debut studio album Zwei Zoote Minsche (two types of people). In a nutshell, it's about a guy from Cologne who once he arrives at his vacation destination becomes homesick and longs to be back in his hometown. Here's a translation of the chorus: I want to walk to Cologne/It's the language I understand/It's what makes my heart beat/I want to walk.
Zeltinger Band/Müngersdorfer Stadion
Let's wrap things up with some Kölsch punk. Zeltinger Band are a rock group formed by vocalist Jürgen Zeltinger and other musicians in 1979. They have released more than 20 albums and remain active to this day. While I never followed them, I've always liked Müngersdorfer Stadion, their tune about a famous local soccer stadium that is the home base of professional Cologne soccer club 1. FC Köln. The song was included on the band's first record De Plaat (Im Roxy Und Bunker Live) [The record (live at Roxy and Bunker)]. Is it a stretch to highlight this track, given it's not directly about Cologne? I think it's not, given Müngersdorfer Stadion and 1. FC Köln are two local institutions that I would argue are comparable to the cathedral, at least to many folks living in Cologne!
Sources: Wikipedia; YouTube