The Eighties are widely regarded as the low point of Bob Dylan's entire career, a time when he struggled to find relevance in the MTV era and released a series of tacky, rudderless albums that were savaged by fans and critics. So reads the opening sentence of Rolling Stone's recent review of Springtime In New York: The Bootleg Series Vol. 16 1980-1985, the latest installment in Bob Dylan's ongoing bootleg series. This pretty much reflects what I also read in Ultimate Classic Rock, Glide Magazine, Flood Magazine and other media outlets. Rolling Stone was quick to back up their statement with a quote from the maestro who in his 2004 memoir Chronicles: Volume One said, "[I was pretty] whitewashed and wasted out…I'm in the bottomless pit of cultural oblivion. I can't shake it." As I was listening to Springtime this morning, I kept thinking, 'gee, Dylan at his worst sounds mighty good!'
Before going any further, I must reveal that while I dig many Dylan songs, there are huge gaps in my knowledge of the man's mighty catalog. From the three albums Springtime captures – Shot of Love (August 1981), Infidels (October 1983) and Empire Burlesque (June 1985) – I had only listened to some tunes from Infidels, and all I remembered off the top of my head were Jokerman and I and I – both decent songs, in my opinion. I'm more familiar with Dylan's records from the '60s until the mid '70s. I've also listened to his most recent work Rough and Rowdy Ways and have come to dig it.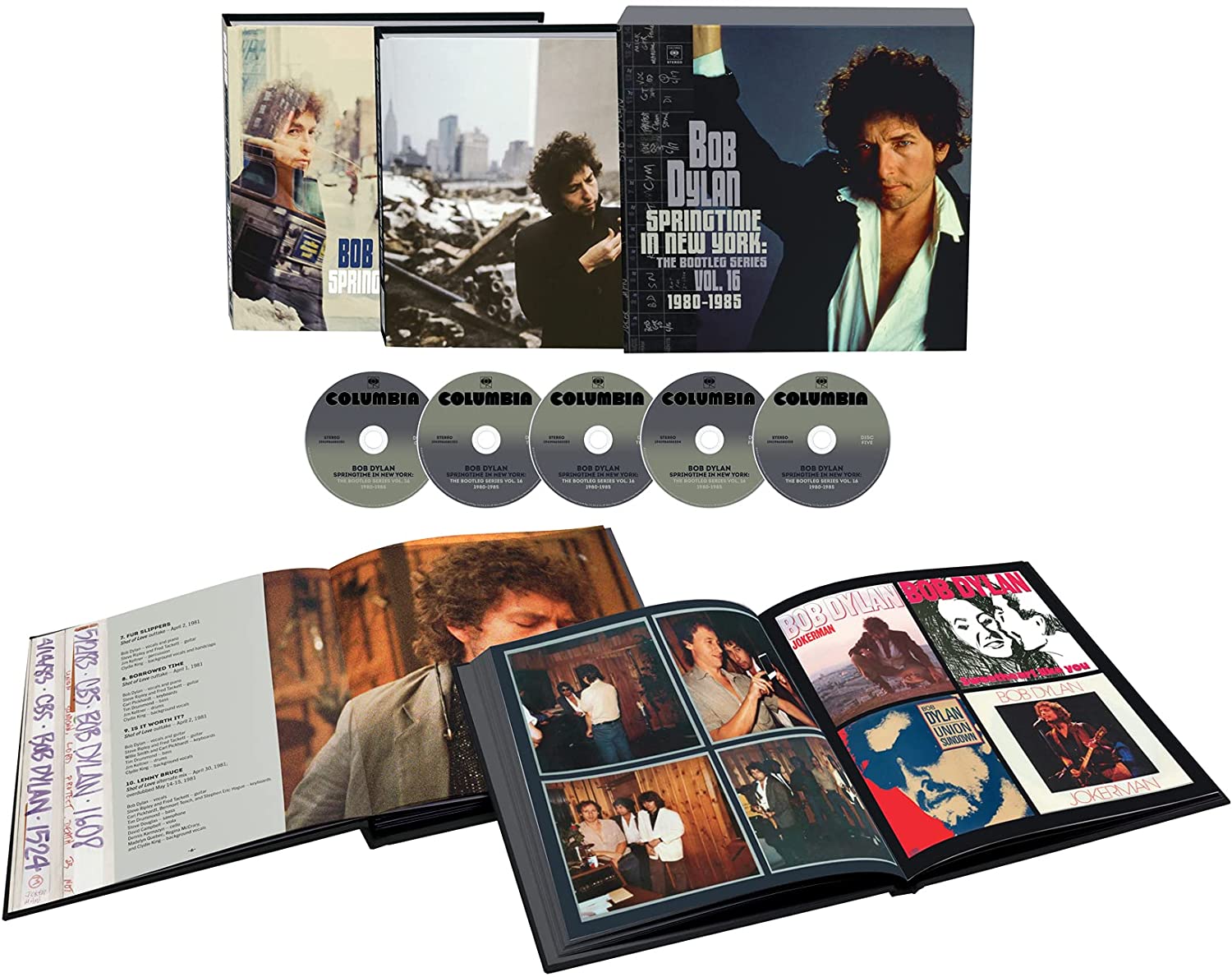 The Bootleg Series Vol. 16: Springtime in New York 1980–1985, released yesterday (September 17), is the 14th installment in the series Dylan started in March 1991 with The Bootleg Series Volumes 1–3 (Rare & Unreleased) 1961–1991. Springtime includes previously unreleased tour rehearsals and outtakes from the three aforementioned albums, as well as various live versions. The compilation comes in three different formats, including a 2-CD standard edition, 5-disc deluxe edition, as well as 2-LP and 4-LP formats.
Let's get to some music, based on the 5-CD edition. The rehearsal of Need a Woman is a track from disc one. Dylan first released the song on the aforementioned inaugural installment of his bootleg series as an outtake from Shot of Love. He is backed by fine musicians, including guitarists Steve Ripley and Danny Kortchmar; Carl Pickhardt (keyboards); Tim Drummond (bass); Jim Keltner (drums), as well as Carolyn Dennis, Madelyn Quebec and Clydie King who provide dynamite backing vocals and clapping.
Let's move on to disc two and Price of Love, another outtake from Shot of Love. Not sure whether Dylan had previously released that song elsewhere. In addition to Ripley, Pickhardt, Drummond, Keltner, King and Quebec, he's backed by Fred Tackett (guitar), Benmont Tench (keyboards), Steve Douglas (saxophone) and Regina McCrary (backing vocals). Love this outtake!
Blind Willie McTell, a track from disc three, is another Dylan tune he first released on The Bootleg Series Volumes 1–3 (Rare & Unreleased) 1961–1991 as an outtake from Infidels. This is a different version of Dylan's tribute to Piedmont blues and ragtime singer and guitarist William Samuel McTier. Known as Blind Willie McTell, he influenced The Allman Brothers Band, Taj Mahal, Alvin Youngblood Hart, Jack White, Mr. Zimmerman and many other artists.
Next up: An alternate take of Sweetheart Like You from disc four, a song Dylan first released on the Infidels album. It also appeared separately as the record's second single and became Dylan's first official music video, which you can watch here if you're so inclined. Here's a clip of the alternate take featuring another neat backing band: Guitarists Mark Knopfler and Mick Taylor; Alan Clark (keyboards); Robbie Shakespeare (bass) and Sly Dunbar (drums), of reggae production duo Sly and Robbie; and Clydie King (backing vocals). Not too shabby for an artist who supposedly was at a low point in his career – well, I suppose it's all relative, isn't it?
Let's wrap up this post with two tracks from disc five. Both are my early favorites from the collection, based on what I've heard thus far. First is a great live version of a tune called Enough Is Enough, captured at a gig at Slane Castle in Ireland. Based on what I could find on Setlist.fm during the timeframe this latest bootleg installment covers, it looks like Dylan played the song during this 1984 concert. After some additional digging, I found Dylan's backing band included Mick Taylor (guitar), Ian McLagan (keyboards, formerly with Faces), Greg Sutton (bass) and Colin Allen (drums). Damn, this rocks!
And last but not least, here's New Danville Girl, an outtake from Dylan's Empire Burlesque album. According to Wikipedia, Dylan co-wrote the nearly 12-minute satirical with American actor, playwright, author, screenwriter and director Sam Shepard. Originally, the tune was intended to be an answer to Doin' the Things That We Want To, a 1984 song by Lou Reed that had been inspired by a Shepard play. The tune would later be re-written and re-titled Brownsville Girl. Dylan included it on Knocked Out Loaded, the 1986 follow-on album to Empire Burlesque. I absolutely love this tune!
Listening to Springtime In New York: The Bootleg Series Vol. 16 1980-1985 has been quite a revelation. Apart from great renditions, I really like Dylan's singing here – something I certainly can't say for all other songs I've heard. And the musicians backing him on these recordings are spectacular, though I suppose if you're Bob Dylan, you can secure pretty much anyone. Now I'm also curious to further explore the Shot of Love, Infidels and Empire Burlesque albums.
Sources: Wikipedia; Rolling Stone; Ultimate Classic Rock; Glide Magazine; Flood Magazine; Setlist.fm; YouTube