"When I think about it now, I think about how it all sort of all started. We just had this dream. And we thought, well, what do we wanna be famous for? It turns out it was the songwriting." (Barry Gibb, Miami 2019). I would humbly add some of the most amazing three-part harmonies I've ever heard! I was reminded of this the other night when watching the documentary The Bee Gees: How Can You Mend a Broken Heart on HBO Max. The film about the highs and lows of brothers Barry Gibb, Maurice Gibb and Robin Gibb spontaneously inspired this four-part feature.
The story of the Bee Gees starts in 1955 in Manchester, England, when 9-year-old Barry Gibb (guitar, vocals) and his younger brothers 6-year-old Maurice Gibb (vocals) and 6-year-old Robin Gibb (vocals), who are fraternal twins, formed skiffle and rock & roll group The Rattlesnakes, together with their friends and neighbors Paul Frost (drums) and Kenny Horrocks (tea-chest bass).
In December 1957, the brothers were going to lip-sync to a record at a local cinema, just like other kids had done there before. But on the way to the venue, the fragile shellac 78-RPM record broke, forcing them to sing live and in harmony – possibly one of the best accidents they ever had. Encouraged by the audience's positive reception, Barry, Maurice and Robin knew what they wanted to do for the rest of their lives: singing together professionally.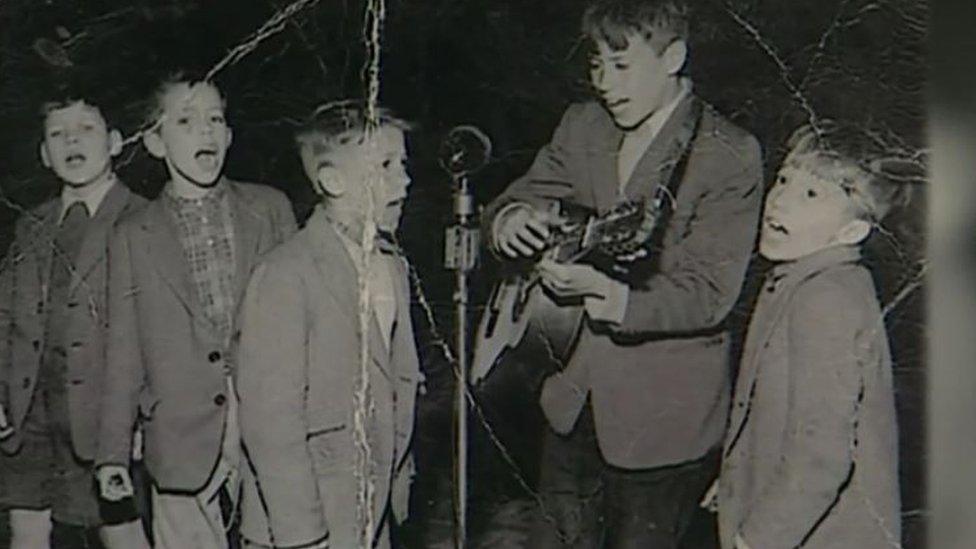 In May 1958, Forst and Horrocks left, which put an end to The Rattlesnakes. But determined to pursue a career in music, the Gibb brothers immediately formed a new group, Wee Johnny Hayes and the Blue Cats. Only three months later, their family emigrated to the metropolitan area of Brisbane, Australia. But that didn't stop the three brothers who soon started performing locally. In 1960, they met speedway driver and promoter Bill Good who hired them to entertain the audience at the local Redcliffe Speedway in 1960.
Good also introduced the boys to Brisbane radio-presenter jockey Bill Gates. It was Gates who came up with the name 'BGs' after his, Good's and Barry Gibbs' initials, which was later changed to Bee Gees. The Bee Gees started to appear on TV shows and perform at resorts on the Queensland coast. After Barry presented some of his songs to Col Joye, an Australian pioneer rock artist, Joye helped the Bee Gees get a deal with Leedon Records, a subsidiary of Festival Records in 1963.
In March 1963, the Bee Gees released their debut single The Battle of the Blue and the Grey. Written by Barry Gibb, the country-oriented tune made it into the Australian charts, placing at no. 98.
The Bee Gees continued releasing two to three singles a year, while Barry also kept writing songs for other artists. In November 1965, their debut album The Bee Gees Sing and Play 14 Barry Gibb Songs appeared. It was largely a compilation of their previous singles. One of the new songs was the opener I Was a Lover, a Leader of Men.
The early releases by the Bee Gees lacked commercial success, and by 1966, their record company was on the verge of dropping them. At that time, the Gibb brothers met Nat Kipner, who had just been appointed A&R manager of Spin Records, a new independent label. Kipner not only successfully managed the Bee Gees' transfer to Spin but also introduced them to engineer and producer Ossie Byrne. Through Byrne, the Gibb brothers gained generous access to his own small, self-built St Clair Studio. Over several months in mid-1966, the Bee Gees recorded a large amount of original songs there.
Disillusioned by their lack of success in Australia, Barry, Maurice and Robin decided to return to England, hoping they could be more successful there. While at sea in January 1967, they found out that Spicks and Specks, one of the tunes they had recorded at St Clair Studio, had been named Best Single of the Year by Australia's most popular and influential music newspaper Go-Set.
Spicks and Specks hit no. 1 and no. 2 in New Zealand and the Netherlands, respectively, and climbed to no. 5 on the Australian charts. The Bee Gees had scored their first hit. England would bring them international fame.
Sources: Wikipedia; The Bee Gees: How Can You Mend a Broken Heart – documentary directed by Frank Marshall; YouTube